Senior Living Enriched by Technology
By Taylor Miller, Assistant Project Specialist – OBA
Revitalizing Senior Living with Technology
The last thing on a lot of our minds when we think of our parents or grandparents is technological literacy. Some of the concepts and ease of functionality that we all see as second nature are viewed as intrusive, counter-intuitive, and downright confusing for many senior citizens. Yet whether we like it or not, technology has become an integral component for many senior living facilities. Developers of these properties will save money and become more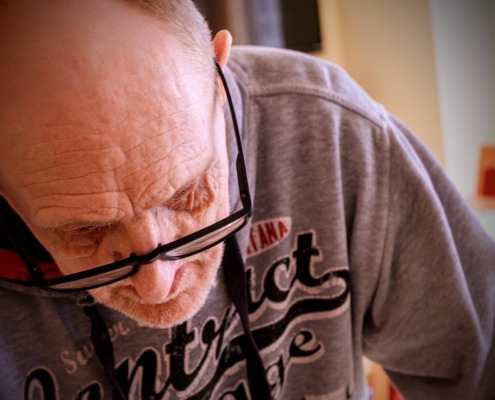 attractive to potential clients who are drawn to amenities and services made possible by innovative technologies. The development of residential assisted living communities has already taken off and is rapidly accelerating as developers are realizing that 10,000 seniors from the Baby Boomer generation are retiring every day. This market is set to be expanding for the next 10 years and the two hallmarks for these facilities are technology driven amenities and small communities.
There has never been a better time for senior citizens to welcome tech with open arms. The social implications of COVID for this demographic have turned many away from pursuing more traditional nursing homes with a hundred beds, more exposure, and more risk. Nursing homes received a lot of bad media exposure in 2020 and left many seniors grasping for a better option. Smaller communities with a variety of tech-driven amenities have wooed many senior citizens in this age of social safety and awareness. These smaller assisted living communities with 8-14 units offer larger individual living spaces that resemble more of a condo than a hospital room. Developers have made these units a space that anyone would love to call home. Here are some of the technology-driven amenities that these units are currently outfitted with and some tech that we could see in the near future.
Video Call Options
Making video call platforms like FaceTime, Skype, or Zoom available in assisted living communities is a must-have, particularly in this COVID era. The ability to chat with loved ones face to face from a safe space is of the utmost importance and a luxury that many typical senior communities are not yet equipped with. Also, using this function to communicate with doctors for checkups via video offers a safe way to access medical advice without having to venture out on the road or come in contact with potentially sick individuals in a hospital waiting room. Smart TV's with these function could be installed in each unit so that a user may seamlessly switch from a TV show or movie right into a video call with family or medical staff with a click of a button or even a voice command.
Sensors and Voice Command
The application of different sensor technologies in a senior living community is endless. Put a pressure senor on the bed to send a signal to nursing staff when someone who may be at risk of falling gets out of bed in the middle of the night. Place a magnetic switch sensor on the door to monitor whether the resident is inside their unit or not. This could be used by housekeeping staff to determine whether or not to enter when replacing bed sheets. A good old fashioned knock may not be heard by many residents. Showering is sometimes a difficult task for residents and if they are not receiving direct help with bath time, then placing a safeguard for accidental falls may be a good idea. Popular products that utilize voice commands could be placed on the bathroom counter for a resident in trouble to signal for help by simply telling the device to contact a nurse. Voice command technology may be some of the easiest for senior citizens to master.
Entertainment, Health, and Socialization
Some of the more standard technology that senior citizens may already be familiar with is important to include in a senior living facility. A strong Wi-Fi signal for internet connection is a staple. Streaming services like Netflix, Hulu, and HBO Max provide hours of entertainment to pass the time. Many TVs today have streaming services like these pre-downloaded and can be accessed with ease via one remote or voice command. Tech-savvy residents will bring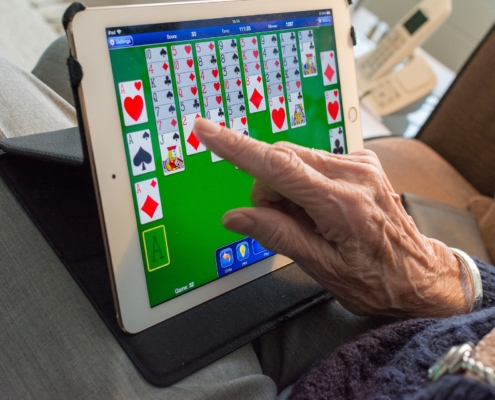 their personal phones, laptops, and other devices and expect to be able to connect them to a wireless network. For less savvy residents, it may be a good idea to create a tablet lease to own program paired with educational tech seminars. Being able to connect with friends on social media via various apps is a good way to ward off feelings of depression and isolation. Gaming apps are also extremely beneficial as games like Words with Friends, Sudoku, or Solitaire all keep the player mentally engaged for long periods of time. Again, this is why encouraging the use of smart phones and tablets is beneficial for the health of the senior community. However, moderation must be practiced. Too long on the tablet or phone may cause other health issues to arise. This is why including fitness technology, most of which are wearable, is another vital component.
Wearables
Today, younger generations love the idea of wearing a GPS or a heart rate monitor, but for older generations it is easy to view wearable technology as an intrusion of basic privacy. The hesitation is understandable. You do not want someone tracking your location or collecting data to sell to large corporations. Plus, there is something liberating about not being connected to the internet with every step you take. That is why an introduction to wearable technology like this to the senior population must be done with an educational aspect in mind. Yes, of course, you do not want your location tracked by someone with ill intentions or be available on the internet, that is why there are settings you can adjust to be sure that only the person caring for your well-being has access. Taking the time to explain the functions and safety features of wearable technology has to be at the forefront of the discussion. Also, as a senior citizen entering a living facility with the purpose of receiving more effective and efficient medical care, there will be some compromise for the sake of resident safety. Wearable technology could single handedly replace almost all other technology needed to efficiently monitor a senior citizen's health and well-being. The most prominent uses would be to track a current location, count calories burned, monitor heart rate and oxygen levels, and analyze sleep patterns. All of these functions will be instrumental in providing the best quality of life for senior citizens and making sure that accidents are addressed as promptly as possible.
Tech for Seniors, Here to Stay
Technology has dominated the 21 century and is only continuing to evolve and become more integrated into our daily lives. This is not the time for senior citizens to be "too proud" or "stuck in their ways" to utilize today's technology for the sake of safety and health. COVID-19 has only reinforced that the implementation of such technology is vital to the rethinking of senior housing. Moving forward we must educate and encourage senior citizens to use technology so that it may augment their lives in the ways that may not be particularly obvious to them. The future of senior housing development must be reinforced with innovative technology for the health and safety of everyone involved.